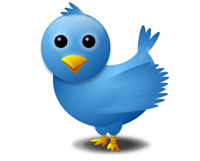 Twitter can be a huge time-waster that brings you nothing in return unless you know the best strategies for sharing content, following influential people in your niche and attracting other people who want to follow you.
Here are 5 things I wish I had known about Twitter when I started tweeting several years ago:
     
    
1. You don't have to read your Twitter feed, or even a small portion of it. 
I glance at my feed a few times throughout the day but never make a point of actually reading it. I've discovered much quicker ways of finding and sharing helpful content, like using my Google Reader and Google Alerts and creating Twitter lists of people whose content I want to share.
     
    
2. No one cares about what time you got up, what you ate for lunch or when you're logging off Twitter for the day.
These kinds of tweets add to the noise. They serve no useful purpose. Stop writing about this.
     
    
3. Twitter isn't a numbers game and the person with the most followers does not automatically win.
If only a sliver my more than 20,000 followers cares about what I tweet, and most of your 300 followers hang on your every word, you could be much more successful on Twitter than I am.
     
    
4. You can use Twitter to communicate with people, including journalists, who might not otherwise respond to your email or phone call.
The best way to get in front of influential people and start a conversation with them is to follow them and ask them direct questions on Twitter about their areas of expertise, or retweet their content.
     
    
5. Use Twitter for business only.
It's easy to waste time on Twitter. That's why it's imperative that if you want to use it to build your business, you use it ONLY for business.
Trying to maintain two accounts—one for personal and one for business—will cut into the time you can spend promoting your business expertise. If you want to communicate with your friends, use a site like Facebook.
     
    
Those are only five of several dozen tips I'll be sharing when I host the webinar Twitter for Beginners: A Step-by-Step, Can't-Fail System for Experts and Influencers (and Those Who Want to Be)."  It's at 3 p. m. Eastern Time on Thursday, Aug. 4. Everyone who registers will receive a helpful handout that's a mini Twitter dictionary filled with Twitter definitions you need to know.
This Twitter 101 webinar is perfect for Publicity Hounds who manage their own Twitter accounts and for PR people who are training clients on how to manage theirs.  Read about what you'll be able to do after the webinar, and register.