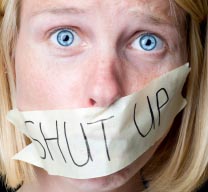 When you tweet or post on somebody else's Facebook wall, do you censor yourself?
It's an interesting question.
Joyce Dierschke asked it at the Social Media Today blog, and it really made me think.  
Recently, a Cisco job applicant tweeted his way out of a job. In New York, a PR guy at Ketchum got caught dissing Memphis, a city he was visiting for a client meeting. The tweet made it back to the client, and the client told his boss. 
Here are four ways I censor myself on social media: 
Sites like Twitter, where some people bare all, could be a criminal's best friend.  Here and elsewhere online, I never let people know when I'm leaving the house if it's during a time when it will be unoccupied.  I'm aghast at the number of people who do.  I also find an incredible number of people I'm following who broadcast when they are going on vacation, where they are going and when they are returning home.
     
I don't share my politics or religion.  During the '08 presidential campaign, I saw people get into ugly shouting matches on Twitter and Facebook over their preferred candidates.  If you're a consultant who wears your politics on your shirt sleeve, I probably wouldn't refer my client to you if you describe yourself as "very liberal" and my client is "very conservative," and vice-versa. Nancy Marmolejo, a social media expert who was my guest recently during the teleseminar "Can Your Social Networking Profile Pass the 10-Second Test?" says she also thinks it's dangerous to mention politics and religion unless, of course, that's part of your job.
       
I don't use four-letter words but see lots of otherwise bright business people who do on Twitter and in their blogs. A few of them work in the corporate suite and, I'm sure, would never think of uttering those words, including the F word, in front of clients and other business associates.  Will one of you offenders please explain why you think it's OK to do it online? 
            
As difficult as it is sometimes, I try to refrain from criticizing people publicly.  I abide by the saying, "People won't remember what you said or did.  But they'll always remember how you made them feel."
How about you? Do you buy into the whole "transparency" argument?
Or do censor yourself? If so, how?
If not, why not?