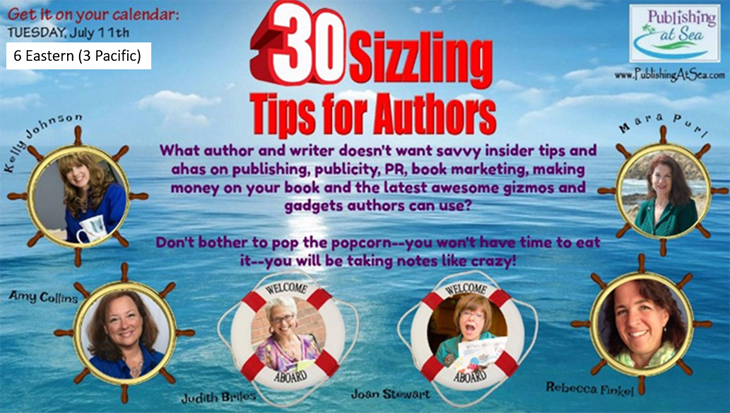 Whether you're new to book publishing or you're launching your fifth book, don't miss today's free training that I'm co-hosting with five other book publishing experts at 6 Eastern.
I'll be joined by book shepherd Judith Briles, book distribution expert Amy Collins, "geek gal" and virtual assistant Kelly Johnson, book designer Rebecca Finkel, and best-selling fiction author Mara Purl.  
We're the faculty members on the fifth annual Publishing at Sea cruise in the Caribbean, Jan. 21-28. Each year, we launch the promotion with a free webinar in which each expert shares five tips from a program we'll be teaching aboard the ship. We'll also tell you about the cruise and how you can join us at the early-bird rate.
Today, I'll be talking mostly about book publicity and promotion. At the end of the webinar, you can ask questions about any aspect of publishing. Register for the free training.
About Publishing at Sea
We'll set sail from Fort Lauderdale on Sunday, Jan. 21, aboard the giant "Allure of the Seas," one of the largest ships in the Royal Caribbean fleet. You can join us for drinks and hot hors d'oeuvres at a private reception just for our group. Introduce yourself, your book and tell us if you're an expert in a topic.   
We'll be headed for Nassau in the Bahamas where you'll find dazzling beaches, turquoise waters, a colorful past and vibrant Junkanoo culture. But it will take a few days to get there. On sea days, we're teaching and learning. So we'll dive into our classes the first few days at sea. In port, you're free to explore the islands on one of the excursions organized by Royal Caribbean, or stay aboard and relax in the sun. 
Our other two stops are Charlotte Amalie in St. Thomas, famous for its shopping district and vibrant reefs. And then it's onto St. Kitts, known for rainfortested mountains and beaches of white, gray and black sands. Last year on St. Kitts, several in our group did a shore excursion to a cooking school where we watched a chef prepare a delicious lunch that featured the tastes of the islands.
A Book Signing Too
The highlight of last year's trip was the book signing with our authors on the Promenade during two consecutive afternoons. Royal Caribbean had never done anything like this before. We hadn't either. And we weren't quite sure what to expect.
Within two days, we sold more than 180 books. Even the ship's captain visited us. 
We're trying to arrange another book signing for the upcoming cruise. This is a wonderful way for new authors to learn how to act, what to say and what to do at an event like this. That's because beforehand, book shepherd Judith Briles runs through a checklist of items to remember while signing books.  ("Don't sit down. Stand up. Have more than one good-quality pen or felt-tip pen. Smile. Engage people by sharing trivia about your book's topic. Suggest your book as a gift.")
If you want to get pumped up about the cruise and see what's in store, check out the day-by-day journal at my blog, using the links below. Don't forget to register for today's free training.
Day 1: We Welcome Our Authors on #PublishingatSea 
Day 2: Best Book Marketing Tips for Authors
#PublishingatSea Day 3: Our Fist Port Day in Colorful Haiti
#PublishingatSea Day 4: The Food of Old San Juan
#PublishingatSea Day 5: St. Maarten, Nude Beaches, Close Calls
#PublishingatSea Day 6: Cooking Class in St. Kitts
#PublishingatSea Day 7: Will They Buy Our Books?