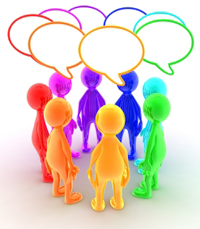 Shane Gibson's list of 20 social media tips under 140 charcters is a handy reminder for social media newbies as well as veterans.
Reading the list, I thought of four common mistakes people are still making, based on the questions I'm receiving from people who read my newsletter and comment here.
If you think of social networking as a giant backyard barbecue, it will be easier for you to realize immediately when you're making a mistake.
How many of these mistakes are you making? 
                                                                                                                                                                                                                                                                                                                                                                                             
—You're  more obsessed with racking up huge numbers of friends, followers and connections than talking to them. This is like having a Rolodex that you never use.
                                   
—You don't understand that spending just a few minutes a week at sites like Facebook and LinkedIn and updating their status is a way of connecting with your friends. LinkedIn and Facebook both announce status updates to Friends and connections.
—You're still using social networking sites as places to broadcast a steady stream of free commercials for whatever you're selling. Glance at your Facebook feed and this may become painfully obvious.
—You're still taking Twitter's question "What are you doing?" literally and write tweet after tweet about when you're walking the dog, eating lunch or closing up shop for the day. Your efforts would be better spent passing along helpful tips and advice, or trying to help people solve problems. LinkedIn's Q&A section is an ideal place to find people who are asking pressing questions about your area of expertise.
Bookmark Shane's list and revisit it periodically. It will keep you on track.