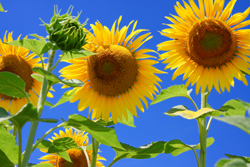 If you can't afford your own photographer, or you take lousy photos, or you hate creating graphics, use a stock photo service to enhance everything from press releases to media kits in a PR campaign.
Royalty-free stock images can save you a lot of time and money trying to generate graphics on your own. Royalty-free means you can use the downloaded images forever and not have to worry about infringement issues.
Shutterstock has given me a complimentary subscription so I can try their service, and their photos come in handy at this blog. They've helped me compile this list of 13 ways you can use stock image photos in a PR campaign.
Blogs. Many bloggers are missing the opportunity to dress up their posts and make their blogs more attractive. Regardless of what topic I write about, I can usually find a stock image to accompany it.  
    
Ezines and print newsletters. Stock photos and illustrations can enhance articles in company newsletters and ezines. Now that so many ezine publishers produce HTML newsletters, stock images come in handy.
      
Press releases. Most press release distribution services allow customers to upload several images at no extra charge. If the headline doesn't call attention to your release, the stock photo just might. Adding editorial stock images of premier events such as concerts or sports competitions can add weight and influence to a related press release, blog post or ezine article.
    
Presentations. Whether you're submitting a proposal for a client, or you're a speaker who's presenting to an audience, compelling stock images used to illustrate business presentations can help capture the attention of your audience. Highlight key points with photos and illustrations in PowerPoint. 
    
Reports. Stock photos are a great way to add excitement to client reports and reinforce your accomplishments.
    
White Papers. White Papers often cry out for colorful stock imagery to break up text and hold readers' attention. 
     
Media kits. Including stock photos and illustrations when designing a media kit or media kit inserts to add extra visual appeal. 
    
Event invitations and posters. Stock photos and illustrations allow PR professionals to create attractive event invitations. Stock images can also help create just the right mood for the event itself. Simply enlarge them to poster size and place them throughout the event location.  
    
Social media. Use them to enliven your your social media presence on sites such as Facebook, Twitter (Twitpic), Wikipedia, and more.  
    
Search engine optimization. By properly tagging a stock image within a release, blog or website, you can raise your site's rankings. PR clients will appreciate the added value as well as your SEO savvy.
    
Your own website. Stock photos and illustrations are a great way to demonstrate creative flair and generate interest in your website, or your PR client's.
    
Advertising.  If you're buying an ad, a good stock photo can come in handy.
    
For the media. Offer stock photos to journalists if they're coving a story about you, and the photos are a good tie-in. Sure,  the media have access to their own stock photos, but Rule #1 when working with the media is "Be helpful." 
My ebook How to Use Photos & Graphics in Your Publicity Campaign offers thousands of helpful tips on how to  incorporate images into your publicity efforts.